I finally picked out new lighting for the kitchen and dining room. Currently, there are ugly ceiling fans in both rooms. The kitchen, I can understand. But I really don't want a dirty ceiling fan blowing dust down into my dinner. Plus, a pendant is much more stylish. :) The kitchen fan isn't too bad, your standard white blades with brass hardware. The problem there is that the bright lightbulbs in the kitchen shine in your eyes if you are sitting in the living room.
Here's the fixture I picked out. It can go from 10" tall (for the kitchen) clear up to 60" (for use as a pendant):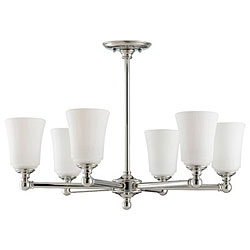 I ordered two of these. They were just $56.99 on www.overstock.com! This
exact same
fixture is marked down from $494.99 to $321.99 at www.lampsusa.com and is listed for similar prices on other lighting websites. What a deal! (If I do say so myself - which I do, because I can't help but announce prices when I got a deal!)
The description from the website says:
A contemporary rendition of an early 1900's colonial period look. This high quality Murray Feiss- Huguenot Lake collection boasts turned steel breaks, hand spun fitters and pressed glass. The inspiration from French antique design of the late 1800's is felt, creating a collection that has a European country sensibility combined with pragmatic American design.
Is it just me, or are these more modern looking than "early 1900s colonial period look"? They seem very
Restoration Hardware
to me.
These should arrive on Wednesday but I'll be in clinic so I'm going to leave a note for the UPS person to leave them in the side porch. We'll see if they'll actually leave them or if I have to sign for them.
I'm excited and will post pictures when we've got them installed!